Olá! 
É com grande prazer que lhe desejamos boas-vindas ao novo Site e Blog da MeLikesTea!
Estávamos sonhando com esta nova plataforma há um bom tempo e ela finalmente está no ar! Para celebrar o seu lançamento, vamos fazer uma retrospectiva de como a MLT costumada funcionar desde o seu comecinho!
Although MeLikesTea only became a registered business in October 3rd 2016, our history actually goes back to almost 7 years ago. At the time it was just me, Tai, accepting commissions for petticoats, skirts and other garments every now and then on an online Brazilian Lolita Forum to help finance my college degree.
In 2011 I also started to accept commissions from the overseas community at the "EGL Community Sales" forum on Livejournal using the name "anatnof" which was my username in the forum, and here is how people used to order from then on:
Uma postagem de "Disponível Para Encomendas", também conhecida como "[AFC]" (abreviação de "available for commission"), seria escrita e postada na comunidade contendo diversas informações e alguns items previamente feitos por mim, aqueles interessados em fazer uma encomenda preenchiam o "formulário de compra" abaixo e o enviavam por comentário, DM ou e-mail e a transação prosseguia via DM ou e-mail,
Formulário de compra:
-Feedback:
-PayPal:
País
-Frete: ( )Airmail ( )EMS
-Código:
-Cor:
-Tamanho: [cintura, quadril, coxas]

-Outras infos.:
Em 2015 as coisas começaram a ficar menos informais, um Blogger foi criado e usado como site da MeLikesTea; havia então mais informações disponíveis, páginas individuais para cada produto e as encomendas passaram a ser feitas através de um Formulário Google (abaixo) com campos similares aos do formulário acima e tudo passou a ser feito via e-mail.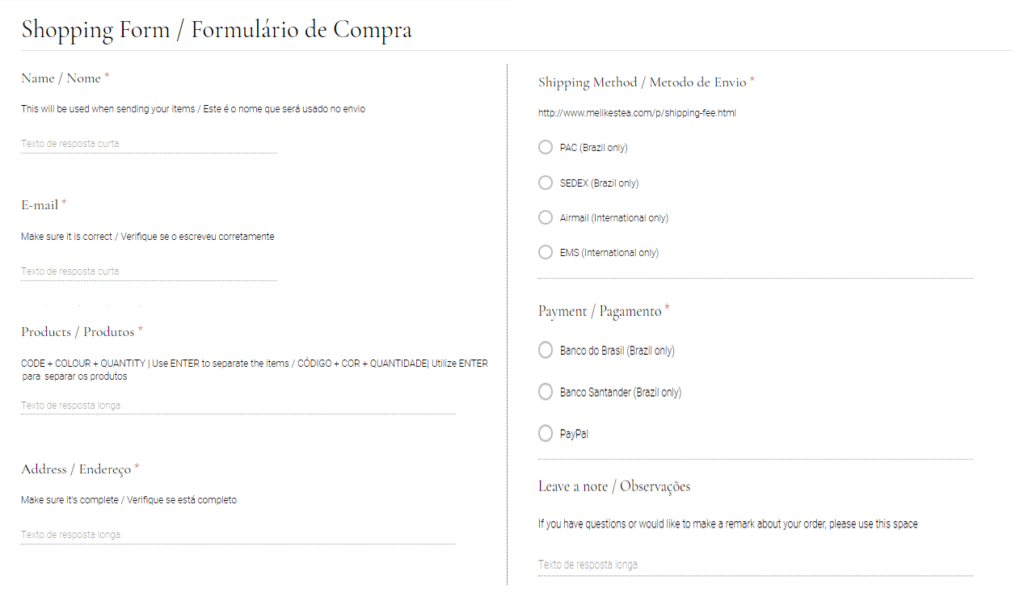 Ao final de 2015 o número de encomendas recebidas passou a ser demais para uma única pessoa lidar e para facilitar um pouco as coisas uma lista de espera foi criada e era preciso primeiro se inscrever nela antes de poder de fato fazer uma encomenda. Confuso e demorado, né?
In December 2016, a little after we officially became a business, we finally started using an online store platform! We finally had a real shopping cart, a real checkout, a real automated e-mail system! That was a huge step for MLT and made everything much easier for everybody. It was also then that things at MLT started to get more serious and we finally started accepting commissions 24/7!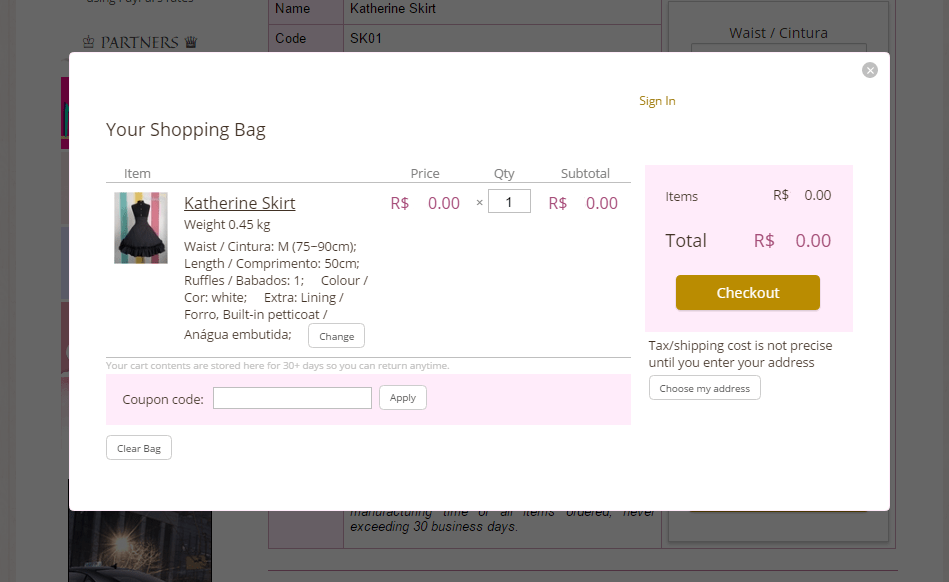 Depois disso apenas uma coisinha aqui ou ali foi alterada, nada significativo. O Blogger/Site era feiosinho "malacabado" mas foi o lar da MeLikesTea por um tempo e servia a seu propósito.
Muitas outras coisas aconteceram entre cada uma dessas mudanças, muito foi feito, muito foi aprendido. A MeLikesTea cresceu constantemente, se tornou marca registrada em 2018, expandiu o atelier e mais pessoas entraram pro Time!
Hoje celebramos um novo ano e celebramos também o começo de um novo capítulo na história da MeLikesTea apresentando a você esta plataforma que será nosso lar por um bom tempo.
Esperamos que goste deste novo site e agradecemos por todo o seu apoio. Sem você nada disso seria possível e a MeLikesTea sequer existiria.
Feliz Ano Novo!
– MeLikesTeam
Tai Fontana
---
Se você quiser ser uma escritora convidada no Blog da MeLikesTea, envie um e-mail para [email protected] incluindo suas redes sociais e a ideia/preview da postagem.